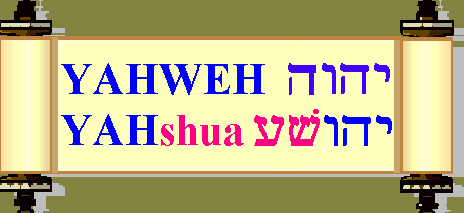 This Site is created and maintained to honor
YAHWEH & YAHshua.
© Copyright 1995,1996, 1997, 1998, 1999, 2000, 2001, 2002, 2003, 2011 & 2015
(Please read Copyright Notice at the bottom of this page.)
.......
.......
NEW!!!
A Chronology of the Bible
by Al Cox III
.......
.......
MUSIC



Original Sacred Names Songs
(Sheet-music with words and melody with guitar chords)
(Recorded in MP3 FORMAT)
.......
Articles on the Sacred Names
.......
.......
Short Messages for
all the Brethren in Messiah
.......
YAHSHUA'S
WITNESS MAGAZINE
An excellent magazine published
by: Elder Jerry Healan the
Elder and Founder of:
Yahweh's Evangelical Assembly.
P.O. Box 31 Atlanta, Texas 75551
Phone # 903-796-7420
E-Mail address at:
jerrheal@aol.com or jerryhealan@sbcglobal.net
Their New Web Site is at:
http://www.yea777.org/home.html
.......
Yahweh's Restoration Ministry
Sabbath Services Live
Every Sabbath 1:30 P.M. (cst)
.......
Please check out Elijah
( Eliyah ) Collette's Website at:
YAH'S WORD IS TRUTH
.......
Two excellent news sources
http://www.jpost.com
.......
N0TICE!
All constructive questions, suggestions,
comments, and criticisms are welcome!
Please report broken links.
©Copyright Notice: Anyone who wishes to copy and/distribute information from this website may do so if they keep the information reasonably in tact and in it's entirely. You may not use any of my web site context or address to lure viewers to any pornographic related web sites or material as has already illegally been done previously. The problem was resolved. Thomas A. Hobbs "Arkie"
May YAHWEH
bless you for visiting
this website.
SHALOM!
(See this chart for the Sacred Calendar year)
Last Updated
7/6/5954 (Sacred Calendar)
9/27/2017 (Roman Calendar)
By Thomas "Arkie" Hobbs